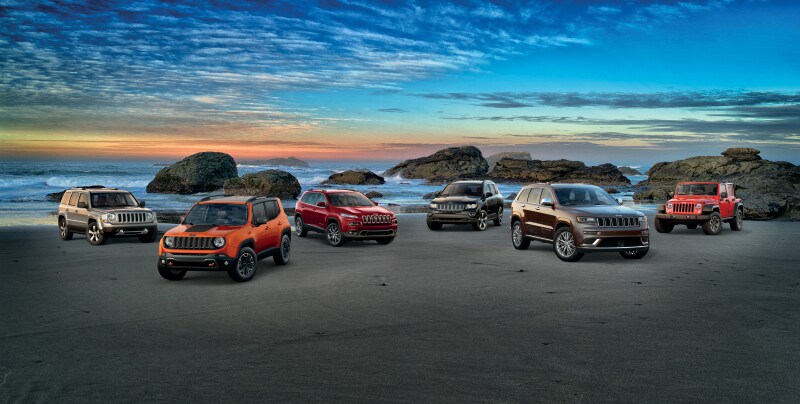 ​
For adventure-loving individuals, Jeep SUVs are the common cars of choice. This is because Jeep SUVs are built for efficiency and durability both on-road and off-road.
The current Jeep SUV lineup includes 7 models with different specs and features to meet a variety of needs.
Jeep SUVs for City & Highway Driving
For the best mileage, consider the new Jeep Renegade and the Jeep Compass. Both have the highest miles to the gallon in the lineup. Both also feature strikingly unique designs amongst their Jeep SUV siblings and will be sure to stand out on the road.
The two are separated mainly by space options with the Jeep Compass offering a more spacious interior.
Jeep SUVs Made for Comfort
If space and convenience features are higher up on your list, the new Jeep Cherokee and Jeep Grand Cherokee may be right for you. Both have spacious five-person cabins and generous cargo room--for a volume noticeably greater than the Jeep Compass. They also both have stunning interiors and infotainment set ups.
The two SUVs are most obviously separated by a difference in size with the Jeep Grand Cherokee offering slightly more volume.
Jeep SUVs Built for Off-Roading
Every Jeep SUV in the lineup is built to excel on-road, but only the new Jeep Wrangler and Jeep Wrangler JK are built for just as much off-road capability. Both feature ample ground clearance, suspension systems, and open-air options. If you need a car that can take you on off-road adventures, the Jeep Wrangler and Jeep Wrangler JK may be your best options.
Among other key differences, many important tech and infotainment features come standard in the Jeep Wrangler where they do not in the Jeep Wrangler JK.
Which Jeep SUV Should You Choose?
Depending on whether your biggest needs are space, mileage, or off-roading, some Jeep SUVs will make more sense than others. Since all are built for durability and performance, however, its hard to go wrong.