While some towns may prefer to hibernate come winter, that's just not how we do things here in St. Louis. Instead, we take to the streets for what may just be the biggest party of the year: Mardi Gras.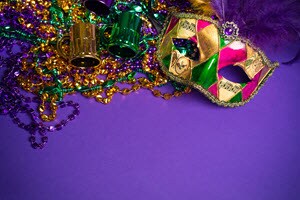 St. Louis Mardi Gras 2018 includes over a month of fun, with 13 events and several nights of celebrating. Whether you're looking to get the family involved or just want a solo night out, there's a little something for everybody.
STL Mardi Gras 2018: The Party Doesn't Stop
If you've lived in St. Louis for long, then you've probably spent some time in the beautiful and historic Soulard district. With its many bars, restaurants, shops, and hotels, it's the perfect neighborhood for Mardi Gras 2018.
This year's festivities run from January 6th all the way through February 13th, with 13 different events spread throughout. Some of these events will be free (perfect for family nights), while others are ticketed.
Mardi Gras: The Events
January 20th, Family Winter Carnival. If you're looking for a free night of fun that the whole family can enjoy, this may be your best bet. This carnival includes games, food, and a parade through Soulard Market park and beyond.
February 3rd & 4th, Taste of Soulard. There's tons of great eateries in the Soulard district. This ticketed event offers locals a chance to taste-test them all with a self-guided pub crawl. If you love Cajun food, you won't want to miss it.
February 4th, Wiener Dog Derby. Once again, we have another ticketed event. However, for how fun and adorable it is, it's totally worth the ten dollars. This is literally the longest-running dachshund derby in all of America, after all.
February 10th, Bud Light Grand Parade. If there's one event you'll want to experience all Mardi Gras, it's this one. It's the "most spectacular pre-Lenten celebration" in the Midwest, and it's completely free to watch!
Party Down with Your STL Neighbors at Mardi Gras 2018
Mardi Gras is about so much more than just partying. It's about community, and supporting local business. The fact that it's so fun is just the cherry on top.
RSVP to STL Mardi Gras on Facebook today to learn more about its upcoming events!