A squeaky sound coming from your car's brakes can mean a lot of things. If that sound doesn't seem to be going away, you might be wondering when to service squeaky brakes. If your vehicle has disc brakes, they will squeak after the car sits overnight, mostly due to moisture from rain, dew, or condensation that builds up.
If the squeaking continues even after driving a few miles, that could signify an issue. Bring your vehicle to Glendale Chrysler Jeep Dodge Ram, and our service technicians will give it a look. We proudly serve St. Louis, Chesterfield, Kirkwood, and Missouri residents with complete service.
What's That Squeaking Sound?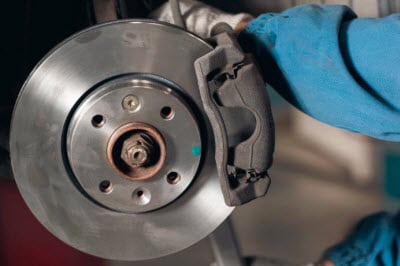 Brakes are a maintenance item that need close attention, but there isn't always an obvious sign that maintenance is needed. So, what exactly might be causing that squeaking sound?
Squeaking brakes can be a sign of:
A loose item: The brake system is complex and has many components. If one single piece comes loose, it could vibrate or make a humming or squeaking sound. It could be a part replacement or lubrication that's needed.
Worn brake pads: When brake pads are worn and thinning, they'll cause squeaking sounds. The wear indicators on the brake pad itself will hit the rotor before the brake pad wears down fully, warning you that the pads need to be replaced.
Weather or road conditions: Brakes can make noise when it rains or the air has increased in humidity. Once the brakes have warmed up and you're driving, these sounds should disappear. Dust or sand can also cause noises, but if the sounds aren't leaving, then it's time to service your squeaky brakes.
Signs You Need Repair
Squeaking brake sounds will often lead to brake repair being necessary. But there are some signs to look out for when it comes to wear and tear on the brakes.
If you're pressing down harder on the pedal to get the car to come to a stop or the pedal seems to be sticking and fighting back against the pressure you place on it, brake repair might be necessary. When it comes to feel, if the brakes are pulling the car to one side or the other, the brake pads could be worn down.
Our Service Center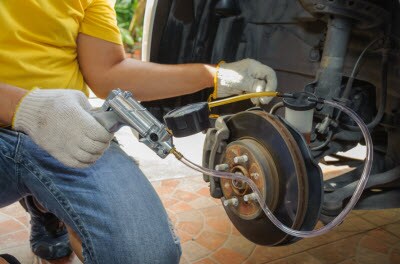 Brake repair is offered at our service center! Schedule service online today, and we'll perform any necessary repairs, returning you to the roadways as soon as possible. Our service includes oil changes, battery replacements, transmission repair, and more.
We only use OEM parts for your Chrysler, Dodge, Jeep, or Ram. We do work on all makes and models, so if there is another part that needs to be ordered, we'll be happy to do that for you.
Comprehensive Repair for Squeaky Brakes
For complete repair for squeaky brakes, turn to the service center at Glendale Chrysler Jeep Dodge Ram. When you hear a squeaky sound coming from your brakes that just won't go away, bring your car to our experienced technicians.
We'll diagnose any concerns and solve the issue, so you can get back on the roads of St. Louis, Chesterfield, Kirkwood, and Missouri.