On top of your engine and transmission, the battery is one of the most critical components of your vehicle. It's designed to provide the power needed to keep your car and its electronic features running properly. Over time, though, it can wear down and cause performance issues, especially if it's not properly cared for.
At Glendale Chrysler Jeep Dodge Ram, we want all drivers to enjoy their incredible new cars for years to come-that's why we're here with everything you need to know about battery repairs.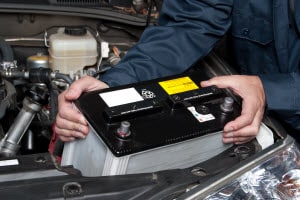 Check out our guide below to learn more about when you should schedule your next battery repair and what you can expect during your service appointment.
How to Improve Car Battery Life 
Battery Repair Warning Signs
When your battery needs professional care, you may notice it start to emit a few warning signs. These signs are usually the first indicators of trouble under the hood, so you'll want to make sure you schedule an appointment as soon as they start to pop up. Delaying necessary battery repairs and services won't just lead to decreased performance, but it can affect your car's ability to power on as well.
So, if you want to avoid getting stranded with a vehicle that won't turn on, contact us as soon as your car starts emitting the following warning signs:
Active battery light on the dashboard
Dim headlights
Non-functioning electronic features
Engine takes a while to turn over
Types of Battery Repairs and Services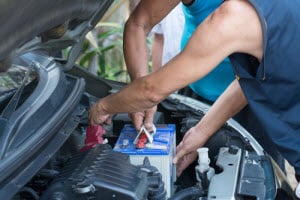 Once you schedule your battery repair appointment and bring your car into our service center, our team of technicians will perform the following services.
Battery Recharge
Battery cleaning
Battery fluid inspection
Battery replacement
The services your vehicle needs will depend on the type of issues it's dealing with. Our technicians will closely inspect the battery, as well as everything else under the hood to get a better idea of what's wrong. When they determine an accurate diagnosis, they'll perform the repair that's best for your vehicle.
Professional Care for Your Battery
If you're due for service or if you're noticing any of the common warning signs listed above, contact Glendale Chrysler Jeep Dodge Ram near St. Louis, Chesterfield, and Kirkwood, MO. With our knowledgeable staff and advanced tools, you can count on us give your vehicle the professional battery repairs it needs.
Don't wait-schedule your battery repair today!