When you're behind the wheel of your new vehicle, regular maintenance may not be at the top of your mind, especially when you're cruising down the highway. Fortunately, keeping your car in tip-top shape is easy thanks to our in-depth maintenance schedules.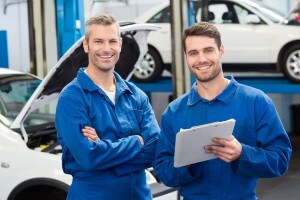 The best way to keep your vehicle in pristine condition is by going over our detailed maintenance schedule. These handy guides let you know how far you can go with your vehicle before you need to take it in for some preventative maintenance. These can be as easy as an oil change or a bit more complicated, like a brake pad replacement or transmission repair
Whatever is required, it's better to get the small stuff taken care of in a timely manner, so they don't turn into a major problem. Learn more about our maintenance schedules and learn how to keep your Chrysler, Jeep, Dodge, or Ram vehicle on the road for years to come.
Dodge Grand Caravan Maintenance Schedule
Dodge Challenger Maintenance Schedule
Dodge Grand Caravan Maintenance Schedule
Chrysler Pacifica Maintenance Schedule
Jeep Cherokee Maintenance Schedule
Jeep Grand Cherokee Maintenance Schedule
Jeep Renegade Maintenance Schedule
Jeep Wrangler Maintenance Schedule
Jeep Wrangler JK Maintenance Schedule
Why a Maintenance Schedule?
You may think that your car doesn't need any preventative maintenance because you don't use it that much or you bought one that's supposed to last for a long time. While modern-day cars do last longer than older models, their longevity is only possible with preventative maintenance. Take the most basic service, for example: an oil change.
Oil changes are essential to keep any car healthy. It may seem tedious, but you need to get your oil changed about every six months, depending on the type of car you have and how often you drive it. If you neglect this and let your oil go bad, it could lead to serious and costly engine damage. It's far more affordable to get regular oil changes than an engine replacement.
Service Center at Glendale Chrysler Jeep Dodge Ram
Maintenance schedules are clearly important, so now you just need to find a place to get the service done. If you're looking for quality service in the St. Louis, Chesterfield, Kirkwood, and Missouri areas, the service center at Glendale Chrysler Jeep Dodge Ram is happy to take care of you.
We even offer an online service scheduler, so you can make a service appointment anytime, anywhere. Our highly trained technicians know how to perform any service on the maintenance schedules you'll find here, so you can be sure your vehicle is in good hands. Visit us, or call us today to get started!