As with all automotive parts, the brakes in your car will need to be replaced as it starts to wear down. Without routine brake replacements, your vehicle can experience a great deal of damage and may not be able to provide the safe and dependable performance you want to experience when you're behind the wheel. So, how do you know when your brakes start to fail?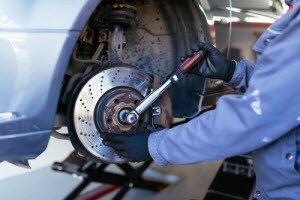 At Glendale Chrysler Jeep Dodge Ram, we believe the easiest way to see when your brakes need replacing is to be aware of a few common warning signs when you're traveling through St. Louis, Chesterfield, and Kirkwood. That's why we created this helpful guide. Take a look at it below to learn more about the brake replacement warning signs you should watch out for when you're behind the wheel.
High-Pitched Squeals and Grinding Noises
When your brakes start to fail, your car will start to emit what sounds like high-pitched squealing whenever you go to stop or slow down. The noise stems from a metal shim in the brake system, and it lets you know that the brake pads are less than ¼-inch thickness and should be replaced.
If you have your brakes changed immediately, the high-pitched noises should go away. If you wait too long to schedule an appointment, the pads will continue to wear down and the squeals will turn into harsh grinding and growling sounds. This is caused by the disc and caliper brushing up against each other.
Warped Rotors and a Vibrating Brake Pedal
Warped rotors are one of the most common indicators of failing brakes. In normal operation, the brake pads grip onto the rotors to help the vehicle stop and slow down. As the rotors become exposed to excessive heat and braking, they will start to become deformed.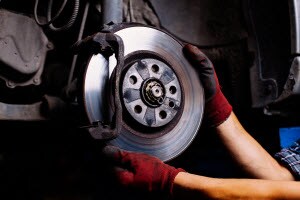 When the rotors become warped, the brake pads will no longer have a smooth surface to grip onto when you step on the brakes. This causes a vibrating sensation in the pedal that feels like an active Anti-Locking Braking System.
Low Stopping Power and a Sinking Brake Pedal
If your brake system is not performing as well as it should be or if the pedal starts sinking into the floor every time your tap it, it means your brakes are failing and need to be replaced.
Reduced response and a sinking brake pedal can come from an air leak within the system. These warning signs can also be caused by a fluid leak. Regardless of what triggered these issues, it's best to schedule a service appointment at a local service center to have your brakes replaced to avoid performance issues and even a collision.
Have Your Brakes Replaced Now!
The brakes in your car are the most significant safety feature it has, which is why it's so important to have them replaced as needed. With properly working brakes, you'll be able to take on the streets of St. Louis, Chesterfield, and Kirkwood safely for years to come.
So, schedule an appointment at Glendale Chrysler Jeep Dodge Ram as soon as you notice any of these warning signs to help your car produce a safer, longer-lasting, and more dependable performance.