When drivers in St. Louis, Chesterfield, and Kirkwood come to us at Glendale Chrysler Dodge Jeep Ram looking for a new truck, they want to know which model is capable of doing it all.
This means a truck that will give you a smooth ride when just driving around the city, and then is ready to conquer any obstacle when trading the paved asphalt for the rocky terrain of the trails. Of course, having a truck means getting a utility vehicle that can haul heavy equipment, carry your tools, and be packed up for any activity.
With all that the 2020 Jeep Gladiator brings to the table, we continue to point drivers toward this all-purpose model. How does it truly stack up to other all-around trucks, like the 2020 Ford F-150 Raptor, that has similar capabilities? There's only one way to find out, and that's by putting the Jeep Gladiator vs. Ford Raptor side by side to see how they perform in many situations.
When Driving Around Town…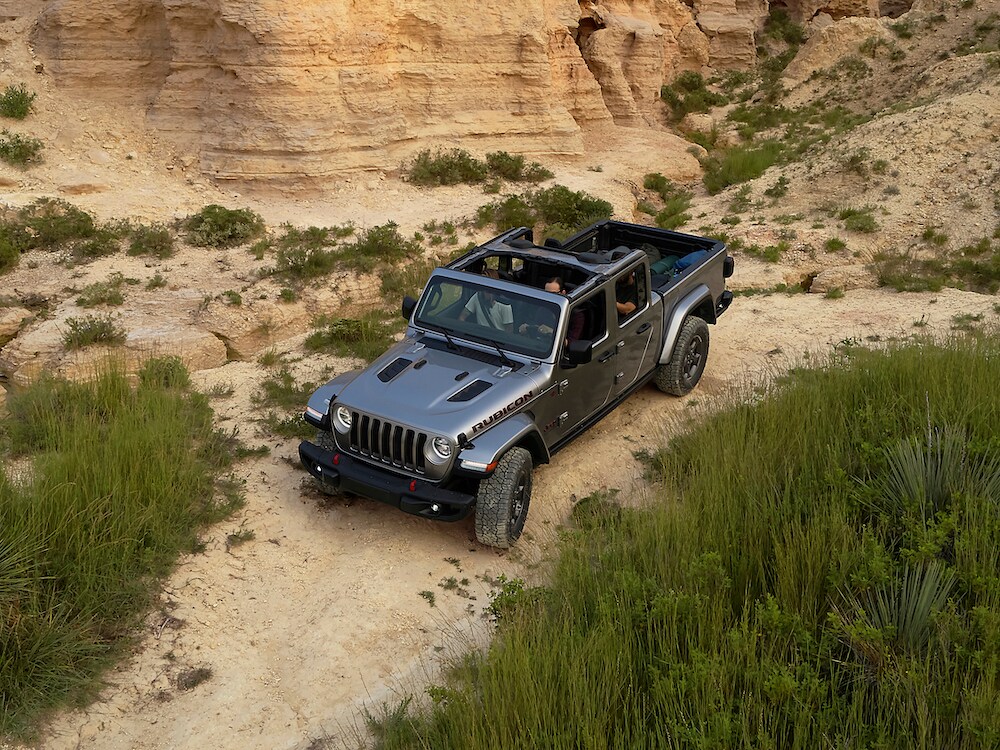 Let's first take a look at how these two trucks perform on the paved streets. Each comes powered by a robust V6 engine that performs well when accelerating at highway speeds or just cruising around town at lower speeds. All the while, you'll have smooth handling thanks to their well-engineered suspensions and responsive steering systems.
The Jeep Gladiator is noticeably smaller in both length and width, which makes navigating the tighter streets of the city much more manageable. Plus, you'll have an easier time parking the 2020 Gladiator, too.
Even with that said, there's still more personal space for you in the Jeep Gladiator compared to the Raptor. In the front row, the 2020 Gladiator has 42.8 inches of headroom and 41.2 inches of legroom. The 2020 Raptor supplies its drivers with up to 40.8 inches of headroom and 40.4 inches of legroom.
When it comes to enjoying the full capabilities of driving a truck, both have the strength needed to safely pull along equipment, your camper, or trailer. They even have spacious beds that allow you to carry other gear for your trip, including everything you need for your game-day tailgate or tools and supplies for the home improvement project you're doing.
The big difference is how much of a payload each truck can handle. At its maximum, the 2020 Gladiator can carry a payload of 1,600 pounds. The Raptor has a payload capacity of just 1,200 pounds.
When Heading Off the Beaten Path…
Now it's time for the fun stuff! Let's see how each truck tackles the rough terrain of the trails with ease, making any off-roading excursions fun and safer.
They both have great ground clearance (up to 11.6 inches with the Gladiator and 11.5 inches with the Raptor) that lets you ride over uneven terrain without damaging the underbody of your truck. Even keep a lookout of whatever obstacles are ahead with the available forward-facing TrailCam Off-Road Camera in the 2020 Gladiator. Then when you do come across an object in your way, the Jeep model's optimized wheelbase lets you smoothly veer around logs or big rocks.
Each also comes with an advanced 4x4 system that enhances your traction, which is key to safely riding up hills, through mud, or over other rough terrain. The available Rock-Trac® 4x4 system in the Gladiator gives you even better control when heading up steep inclines or crawling over rocks thanks to its low gear ratio.
Also, the Raptor doesn't offer the same rush of riding along the trails with the doors and windows off as afforded with the Jeep Gladiator!
The Choice Between the Jeep Gladiator vs Ford Raptor
Those in St. Louis, Chesterfield, and Kirkwood, looking to get the most out of their next truck, find that the 2020 Jeep Gladiator proves to be the ultimate multipurpose truck. You can even learn more about its features and see just what it's like sitting behind the wheel here at Glendale Chrysler Dodge Jeep Ram. Contact us now and schedule a test drive of the 2020 Gladiator.