Every few thousand miles, drivers in St. Louis, Chesterfield, Kirkwood, and Missouri schedule an oil change for their cars. But do you schedule a tire rotation, too? If not, you should.
Tire rotations are one of the most important services your vehicle needs. It's quick and easy, and it'll help your car perform at its best for years to come. For more information about this essential service, Glendale Chrysler Jeep Dodge Ram is here with everything you need to know about tires and tire rotations.
What Is a Tire Rotation?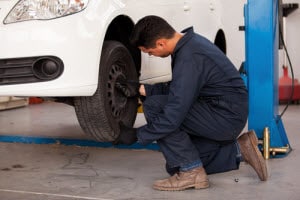 A tire rotation is an important service that all vehicles need to preserve their performance. During a rotation, each tire is taken off the car and moved to a different position. However, they're not just moved to any random location. Where they'll need to be positioned will depend on the type of tires you have.
If your car has directional tires, you may notice that it has a different tread pattern than most tires on the market. This means it can only be moved in one direction. Normally, directional tires will have an arrow on the sidewall indicating where they can be moved.
Most cars, however, are equipped with non-directional tires. These tires can be moved from front to back, side to side, or diagonally.
Why Do I Need a Tire Rotation?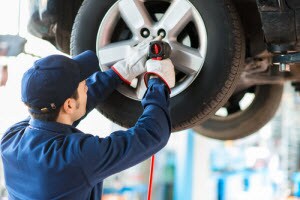 Your tires are some of the most important components of your vehicle. When they wear down unevenly, your car has a harder time producing a safe, stable, and secure performance, especially on slippery or bumpy streets. Fortunately, tire rotations can prevent that.
When your tires are moved to a different location at specific intervals, they'll wear down more evenly. This not only ensures a safe performance, but also extends their overall longevity.
When Do I Need a Tire Rotation?
To preserve your tires' condition and performance, you'll need to schedule a tire rotation every 3,000 to 6,000 miles or with every oil change service appointment. You should also keep an eye out for any warning signs that indicate you need a tire rotation. As soon as these issues start popping up, get to a service department and have your tires rotated.
Here are a few common tire rotation warning signs that you should know:
Tires quickly lose air pressure after inflating
Certain tires have more wear and tear than others
Car starts to vibrate when driving at highway speeds
Schedule Your Tire Rotation Now!
A tire rotation is a simple maintenance item that all cars need to perform like new for as long as possible. If you're interested in learning more about this essential service, or would like to schedule your next tire rotation, drivers in St. Louis, Chesterfield, Kirkwood, and Missouri can contact Glendale Chrysler Jeep Dodge Ram to set up a service appointment.